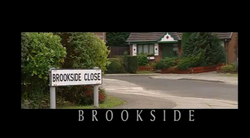 Brookside was a soap opera which aired on Channel 4 between November 1982 and November 2003. It was created by Phil Redmond, who previously created Grange Hill, and would later create Hollyoaks. Brookside was Channel 4's highest rated programme in the 1980s, reaching view counts of over nine million.
Information
Edit
Brookside is set in a small street called Brookside Close. It initally followed the lives of people in six houses, but over the years more houses were built, and so were businesses.
Don't let it fool you, Brookside isn't all sunshine and rainbows - there were some pretty dark storylines. There was a kidnapping in 1985, resulting in a murder and a suicide. 1985 was also the year their first character came out as gay. Brookside is also well known for being the first soap to ever broadcast a pre-watershed lesbian kiss in 1994, and a domestic abuse storyline the next year.
However, despite the show's earlier success, Brookside's ratings were slipping. Redmond attempted to up the ratings by having a helicopter crash onto the parade - as he devised the plane crash in rival ITV soap Emmerdale in 1993, which saved that soap from cancellation. However, Brookside did not recover from this. Due to the slipping ratings and lower profits, the show began to suffer, with it's budget being significantly reduced. The ratings fell to 400,000 and Channel 4 announced the end of Brookside in June 2003. Redmond was infuriated by the decision and introduced a character called Jack Michaelson, based off the Channel 4 employee who made the decision to cancel the show, who was hanged by the residents of the close. And the end of Brookside had arrived.