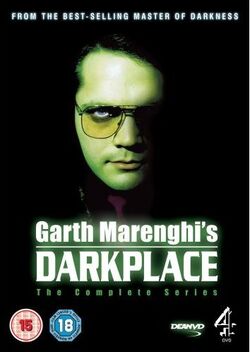 Garth Marenghi's Darkplace is a British horror parody television series created for Channel 4 by Richard Ayoade and Matthew Holness. The show focuses on fictional horror author Garth Marenghi (played by Holness) and his publisher Dean Learner (played by Ayoade), characters who originated in the Garth Marenghi's Fright Knight stage show.
Darkplace is presented as a lost classic: a television series produced in the 1980s, though never broadcast at the time. The presentation features commentary from many of the "original" cast, where characters such as Marenghi and Learner reflect on making the show. Darkplace parodies the fashion, special effects, production gaffes, and music of low-budget 80s television, as well as the modern practice of including commentary tracks on DVD releases of old films and television shows.
The spoof comedy series, released in 2004, lampoons 1980s television drama,[3] particularly horror, sci-fi, and "the rampant egotism of self-appointed 'mastermind' authors." [4] The show presents Garth Marenghi's Darkplace as though it were a real, low-budget television series, produced in the 1980s, and now getting its first screening; this hoax is the show's fictional frame. Darkplace's fictional show-within-a-show includes deliberately poor production and special effects, sub-par acting, choppy editing and storylines that are "severely flawed and open-ended."[3][5] This is interspersed with "present-day" interviews with the "cast".
The series' fictional premise is that some time in the 1980s, best-selling horror author Garth Marenghi and his publisher/publicist, Dean Learner, made their own low-budget television series with a single intent: "to change the evolutionary course of Man over a series of half-hour episodes."[6][7] Set in Darkplace Hospital, "over the very gates of Hell," in Romford, Essex,[4] Garth Marenghi's Darkplace shows the adventures of Dr. Rick Dagless, M.D., as he fights the forces of darkness while simultaneously coping with the pressures of day to day admin. Within this fictional context, Marenghi wrote 63 teleplays from which 50 shows were produced;[7] however, Channel 4 was eventually forced to reject the show due to its "radicality",[4][7] though Marenghi also cites possible government suppression: "MI8, which is actually three levels above MI6, pulled the plug. And they did it because I knew the truth."